New York real estate: Bedford Park, Bronx
<![if !vml]>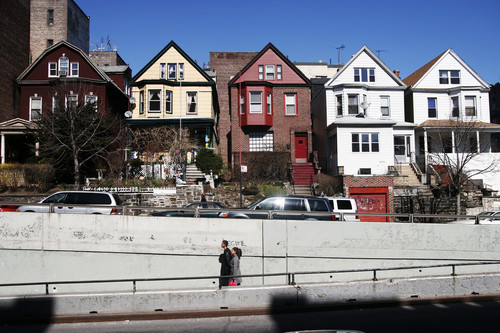 <![endif]>


By Kara Warner | Special to amNewYork
March 27, 2008
The residents of Bedford Park don't necessarily want people to know about their neighborhood. It's not for lack of pride; quite the opposite. They just want to keep this quiet, working-class enclave all to themselves.

Nestled in the northwest Bronx between the New York Botanical Garden and Lehman College, Bedford Park is a diverse, family-oriented neighborhood.

Like most of the Bronx, Bedford Park was once farmland. The area was developed in 1866, with the construction of the Jerome Park Racecourse, and populated by the Italian and Irish immigrants who worked to convert the racecourse into the Jerome Park Reservoir. Today, the area is largely Hispanic, but also includes other nationalities: Korean, Albanian, African and Indian.

Residents tout the area's convenience and accessibility to Manhattan as Bedford Park's main attractions, along with that strong camaraderie among neighbors.
"There are a lot of small communities within the community," says Fernando Tirado, Community Board 7 district manager. "We have a large family population here and good schools, though the lack of school space has become an issue."

"The face has changed," says longtime resident Raymond Rivera, "But it's still somewhat of a hidden gem. [For the most part,] we live in peace and quiet."

Find it

Bedford Park's boundaries are Mosholu Parkway to the north, Webster Avenue to the east, Bedford Park Boulevard to the south, and Jerome Avenue to the west.

To Play

It's not a hotbed for nighttime activity, but Bedford Park has plenty of pubs and alcohol-free alternatives for fun.

Madden's Pub

This local watering hole (and former speakeasy) has been around for 80 years. Stop in to say hello to owner Jimmy and order a beer, which he serves in perfectly frosted mugs.

27 E. Bedford Park Blvd. 718-364-9877

Shea's Emerald Bar

If the name's not enough to give it away, the shamrock-centric decor of this classic pub should be enough to give away its heritage.

29-60 Jerome Ave. 718-364-9924

Jolly Tinker

Predominately a hang out for the Fordham student set, this bar doesn't have the local flavor of the first two. In addition to the student-heavy patronage, the beer Pong tables might be nice for a walk down memory lane. 387 Bedford Park Blvd. 718-364-8789

Lehman College (CUNY)/Harris Fields

On any given Sunday, the baseball diamonds at Harris Fields are perfect for a picnic lunch and a full day of baseball – Little League starts in the a.m., Men's League in the p.m.

250 Bedford Park Blvd. West 718-960-8131

To Eat

One of the only complaints heard from longtime residents here is the lack of restaurants. So for the four eateries listed below have loyal patrons.

Bedford Park Cafe

Located directly across from the No. 4 train stop at Bedford Park Boulevard, this catch-all diner is a great place to meet local residents and truck drivers passing through. Best sellers include burgers, the arroz con pollo and the penne a la vodka. 1 E. Bedford Park Blvd. 718-365-3416

Mike's Pizzeria

Pizza connoisseurs should put Mike's on their "must eat" map. The shop is famous for its sizable Sicilian-style slices, and has a loyal following.

380 Bedford Park Blvd. 718-365-5486

National Donut and Coffee Shop

This place has a homey feel and a huge menu. In other words, go hungry. Menu favorites include their donuts, which are made fresh daily. Try the glazed, jelly or frosted chocolate. 8 E. Bedford Park Blvd. 718-365-5515

Las Maravillas de Mexico

The restaurant, whose name means the marvels of Mexico, is perfect for authentic Mexican fare. Try the sopes, made with thick homemade corn tortillas and topped with the meat of your choice, as well as a tart tamarindo drink.

11 Bedford Park Blvd. 718-584-3455

To Shop

There is not a lot of shopping in Bedford Park, as the majority of residents venture outside the area for retail therapy. However, a walk down Fordham Road or Kingsbridge Road is great for the window shopper.

Our Lady of Refuge Thrift Shop

Run by the charitable folks of Our Lady of Refuge Catholic Church and School, here's a place where you can feel good about shopping.

2845 Briggs Ave.718-733-9026

Pretty Girl

A well-known store in the Bronx for all things associated with women's clothing, this location has several floors and very affordable fashion to fit every taste.

256 E. Fordham Rd. 718-329-2708

Kids World

It's a one-stop shop for children's apparel. This location features affordable everyday kid clothing as well as items from designer labels, Baby Phat and Jlo.

39 E. Fordham Rd. 718-733-3900

To Do

This part of the Bronx has a wide array of cultural and community entertainment.

The New York Botanical Garden

Even before the flowers are in full bloom, the Botanical Garden offers a variety of ways to get in touch with Mother Nature. Take a guided tour through the 50-acre native forest, wander through 250 acres of deciduous trees, or take a tour featuring The Orchid Show (through April 4).

Bronx River Parkway at Fordham Road 718-817-8700

Lehman Center for the Performing Arts

A thriving hub for fine arts, Lehman Center is perfect for expanding cultural horizons. Upcoming events include the opera "Carmen" on April 13.

250 Bedford Park Blvd. West (at Goulden Avenue) 718-960-8833

Bronx County Historical Society Art Deco walking tour

The Bronx County Historical Society provides fun field trips for families, groups or students with a walking tour of the classic Art Deco architecture in the area. Other options just outside the neighborhood include visits to The Museum of Bronx History and the Edgar Allan Poe Cottage.

3309 Bainbridge Ave. 718-881-8900

St. Philip Neri Church

Founded in 1898, the church, with its neo-Gothic building, was built from stone carried from the Jerome Park Reservoir by Italian immigrants, the church's first parishioners. It burned to the ground in June 1997, but was restored and rededicated in January 2002.

3025 Grand Concourse at 202nd Street 718-365-8806

Real Estate

Real Estate in Bedford Park has always been attractive, given the affordable prices and Art Deco buildings found along the Grand Concourse and Mosholu Parkway. However, the subprime mortgage crisis has started to hit home sales, said broker Katie Mariano, of Vicmar & Esty Real Estate. "I have two single-family homes for sale at $279,000," she says. "A year ago they would have been at $300,000."

To Rent

$875 for a studio at Decatur Avenue and 198th Street

$825 for a one-bedroom apartment at 199th Street and Webster Avenue

$900 for a one-bedroom apartment at 192nd Street and Grand Concourse

$1,350 for a recently renovated two-bedroom at East 200th Street at Jerome Avenue

$1,500 for a two-bedroom apartment at Bedford Park Boulevard and Briggs Avenue

To Buy

$151,050 for a one-bedroom co-op on the Grand Concourse

$279,000 for a two-bedroom duplex on Villa Avenue

$549,000 for a two-family home at Hull Ave and Bronx River Parkway

$599,000 for a two-family triplex with one-car garage at Creston Avenue and East 197th Street

$679,000 for a three-family home at East 201st Street and Decatur Avenue

The Buzz

Residents of Bedford Park appreciate their quality of life. The neighborhood's accessibility, coupled with affordable housing, diversity and a strong sense of community, makes this Bedford Park a popular destination for those looking to escape the hustle and bustle.

Basics

Transportation

Subway: B, D to Bedford Park Blvd; 4 to Bedford Park Blvd–Lehman College

Bus: Bx1, Bx2, Bx10, Bx22, Bx25, Bx26, Bx28, Bx34, Bx41, and Bx55. Express buses: BxM4a and BxM4b; also the W4 and W20 from Westchester County.

Metro-North: Harlem Line, Botanical Gardens station at Webster Avenue

Library

Bronx Library Center 310 East Kingsbridge Road (at Briggs Avenue) 718-579-4244

Police 52nd Precinct 3016 Webster Avenue 10467 718-220-5811

Schools (all those that fall under the district served by Community Board 7)

Schools in Community Board 7 include: P.S. 246, 2641 Grand Concourse; Briggs Avenue Academy/P.S. 8 3010 Briggs Avenue; P.S./Middle School include: 15, 2195 Andrews Ave.; P.S./Middle School 20, 3050 Webster Ave.; and high schools include: Bronx High School of Science, 75 West 205th Street; Dewitt Clinton High School, 100 West Mosholu Parkway South;

Post office The closest is at Lehman College: 250 Bedford Park Blvd. 718-960-8000

Crime The 52nd Precinct, which also covers Norwood, University Heights and Jerome Park, reported two murders, six rapes and 88 robberies so far this year, compared to four murders, seven rapes and 97 robberies at this time last year.

Q&A with Raymond Rivera

Raymond Rivera, a Navy electrician in New Jersey, has lived in Bedford Park for more than 20 years.

What should people know about Bedford Park?

It's very convenient. You have transportation everywhere, buses all day, two train stops, and if you walk over toward the Grand Concourse, you can catch a taxi any time.

How has the neighborhood changed over the years?

There's a lot more diversity, more of a blend. It used to be mostly an Irish neighborhood.

What do you like about the area?

I think the convenience, the diversity. [It's] a nice area, basically quiet. It's a working-class atmosphere.

What do you not like?

A little bit of the rise in crime, but I guess that's predominately everywhere. A lack of good restaurants … you have to go out of the area for really good restaurants.

How do you see the neighborhood changing?

Hopefully it does better itself; there's always room for improvement. We need more restaurants. A decent deli or an Italian restaurant.

Any gems you'd recommend?

The Botanical Garden, the Bronx Zoo. And my friends, members of the community.